Lesson 1/27: Introduction to legal careers

Lesson 3/27: Understanding your priorities (PREVIEW)

Lesson 11/27: Corporate seats (PREVIEW)

Lesson 3: Reputation and capabilities

Freshfields Bruckhaus Deringer firm profile

Ashurst assessment centre summary

Lesson 5/19: How to answer career motivation questions

Lesson 5/28: PRACTICE QUESTIONS - Inferences

Lesson 6/21: Group exercises

Lesson 7/18: How to approach the work (PREVIEW)
Free previews
Free

57 lessons

4.5 hours of video content
Membership will give you instant access to...
20 in-depth, expert-led courses covering every aspect of the recruitment process, from application writing, psychometric tests and preparing for interviews, to building commercial awareness, acing case studies and developing professional skills

Dozens of detailed, consistently-structured firm profiles for Magic Circle, Silver Circle, US and regional firms, covering a broad range of key differentiators

35+ comprehensive assessment centre insights for City firms, including example interview questions, information about case studies and written exercises, and specific advice from successful candidates

Dozens of recent (verified) successful applications and cover letters, complete with Jake Schogger's commentary on why these are strong and what could potentially be improved

Example commercial and legal interview case studies, based on real City law firm interviews

Monthly subscriber-only webinars, during which Jake reviews member applications live on air (feel free to submit yours for free!)
City Career Series Founder & Ex-Freshfields Lawyer

Jake Schogger
Jake Schogger is a qualified lawyer, career coach, entrepreneur, author, copywriter and consultant. He is the founder and CEO of City Career Series, a publishing company that has sold ~50,000 handbooks designed to help students secure City careers, including the critically acclaimed Commercial Law Handbook. He trained at Freshfields Bruckhaus Deringer LLP and now acts as a legal adviser to start-ups and scale-ups, whilst also working as a career coach and delivering career-related presentations at universities across the UK. In addition, Jake works with tech start-ups and runs a variety of his own businesses, including a creative/commercial consultancy (Fresh Perspective) and a luxury cake business (Whisk & Drizzle). For more information, visit: www.citycareerseries.com and www.linkedin.com/groups/8944518 or search for "City Career Series" on YouTube, LinkedIn and Instagram.
Career Coach & Ex-Magic Circle Recruiter

Hannah Salton
Hannah Salton is a qualified executive coach, career consultant and former corporate graduate recruiter. She spent the first eight years of her career recruiting graduate talent for leading international corporations, including telecoms giant BT and elite law firm Allen & Overy. In 2017 she transitioned to a career in coaching and professional development, specialising in helping graduates achieve ambitious career goals. Through her personalised one-to-one and group coaching programmes, she helps people develop the skills, confidence and awareness needed to secure their dream job. For more information, visit www.hannahsalton.co.uk and connect with Hannah on LinkedIn: www.linkedin.com/in/hannah-salton-coaching
Podcaster & Baker McKenzie Trainee

Harry Clark
Harry Clark, future Baker McKenzie Trainee Solicitor, is best known as the host of the More From Law podcast, an employability and commercial awareness podcast that has accumulated tens of thousands of streams to date. He also produces comprehensive resources for aspiring lawyers, including a broad range of articles, e-books and other content designed to help increase access to the legal profession. For more information, visit harryclarklaw.com, search @harryclarklaw across social media and connect with Harry on LinkedIn: www.linkedin.com/in/harryclarklaw
Influencer & Baker McKenzie Future Trainee

Gordon Chung
LinkedIn personality Gordon Chung is a future trainee solicitor at Baker McKenzie. He completed his Bachelor of Laws degree at City University of Hong Kong before obtaining his postgraduate Master of Corporate Law degree at University of Cambridge. Recently, Gordon also passed the July 2019 New York state bar examination and is currently awaiting admission as a New York attorney-at-law.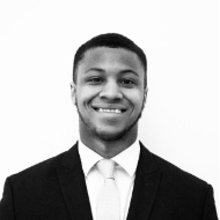 Motivational Influencer & CMS Future Trainee

Akil Hunte
Akil Hunte is a future trainee solicitor at CMS and a multi-award winning law graduate from Nottingham Trent. He is a public speaker, a motivational influencer, the author of 'Unlocking Yourself After Lockdown', a mentor to dozens of aspiring lawyers, and the founder of a marketing and branding programme called 'LinkedIn Skills For Lawyers'.
Womble Bond Dickinson Future Trainee

Simranjeet Mann
Simranjeet Kaur Mann is a future trainee solicitor at Womble Bond Dickinson, having received three training contract offers after finishing university. She has amassed an impressive range of work experience, having completed three vacation schemes, undertaken three paralegal roles, attended four assessment centres and briefly worked at a "Big 4" accounting firm. She's passionate about increasing diversity across, and access to the legal profession, which has led to her offering regular guidance to aspiring solicitors via her Instagram page and her (light-hearted yet informational) YouTube channel, 'Sim's Legal Mentoring'.
Influencer & Future Vinson & Elkins Trainee

Joe Mallet
Joe Mallet is an incoming trainee solicitor at global US law firm Vinson & Elkins, having previously secured five vacation schemes. He's best known for his free LinkedIn commercial law resources group, in which he pools his best advice, resources and template application answers, all of which are based on the lessons he's learned throughout his journey from student to lawyer. For more information, search for 'Joe Mallet Resources for Aspiring Lawyers' on LinkedIn and connect with Joe via www.linkedin.com/in/jm16328
YouTuber & White & Case Future Trainee

Ali Obeid
Ali Obeid, a non-law graduate from LSE, is best known for his highly-personal and insightful career and university-related YouTube videos, as well as the comprehensive tips and resources that he publishes on LinkedIn. Coming from a lower socio-economic single-parent family, Ali truly understands the struggles of 'fitting in' and 'keeping up' with others, which is why his content focuses on helping students to break barriers and reach new levels, efficiently and effectively. He secured a training contract at White & Case just before sitting his second-year university exams, having also interned at Freshfields Bruckhaus Deringer, and is now gearing up to study the GDL and LPC at BPP University. For more information, search for Ali Obeid on YouTube and connect with Ali on LinkedIn: www.linkedin.com/in/aliobeid1
Membership
Access all our courses with a single subscription. Simple, right?
Hear what others have to say
Masters student
"I've been to over 100 legal events in the last 4 months. This was truly the most comprehensive webinar I've had on the topic."
Final year History student
"Brilliant, so in-depth and insightful...I feel much more confident about how to approach applications and demonstrate my skills in a way that matches those required."
Second year English Literature student
"Really impressed with the level of information and presenting skills."
GDL & Ph.D Law student
"Highly insightful, helpful, and instructive. The contributions were excellent."
Final year PPE student
"Thought-provoking and provided a fresh perspective for the upcoming application cycle, including insights to further my commercial awareness and tips to cultivate my personal brand."
University employability adviser
"Very insightful and full of advice!"
Final year Politics & International Relations student
"I found the insights you provided extremely helpful and easy to understand, especially as a non-law undergraduate entering the legal sector."
2nd year Law student
"Really insightful, informative and eye-opening! You have provided us with a wealth of information, which I will utilise to the fullest!"
LLM student
"I feel a lot more confident now for the upcoming application cycle, as I will be using all the tips yourself and the speakers kindly gave."